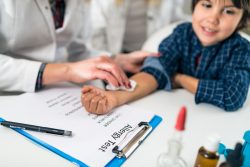 Paediatric Allergy and Immunology Physicians are specialists in treating allergies (food, medication, dust, grass/pollen and animal dander). They also treat diseases that affect the immune system such as immunodeficiencies.
They are trained to provide and interpret skin prick testing, oral food challenges and immunotherapy/desensitisation.
Our Paediatric Allergy and Immunology Specialist, is able to manage:
Food Allergies
Eczema
Allergic Rhinitis (Hay Fever)
Cow's Milk Protein Intolerance
Medication Allergies
Food Protein Induced Enterocolitis Syndrome (FPIES)
Eosinophilic Oesophagitis (EOE)
Immunodeficiency, Recurrent Fever Syndromes & other Immune Conditions
Meet our Paediatric Allergy and Immunology Specialist:
Dr. Chaitanya Bodapati – available for appointments on selected Mondays and Tuesdays.